Programs
Online complementary courses
Grades 9 to 12 students: take the following courses online from anywhere (all you need is an internet connection):
CALM - Career and Life Management
Phys Ed 10, 20, and 30
Religious Studies 15, 25, and 35


Important dates:
July 4, 2022: Mandatory online orientation for PE, CALM and Religious Studies
July 5, 2022: Online courses begin
July 22, 2022: End date for Complementary courses
> > > Learn more
Core Courses - Blended Programming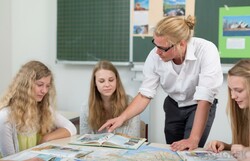 Students attend daily until they have finished the course work and written their final exam. Early completion is possible.
These courses are delivered through an online classroom. All courses will be delivered online this year. Students will attend on a Google Meet from 8 - 1:30 pm every school day.  Much of this time will have students accessing their learning materials online. Teachers will be giving mini lessons throughout the day. Teachers will be online from 8-1:30 pm to support students as they work through their courses. Students can finish their courses early with dedication and hard work.
Students must attend daily, and that they will working at home on their courses during the same hours their teachers are working with the class (8-1:30pm). It will require 5-6 hour days and regular and frequent contact with their teacher, to complete their core course by July 23rd.  Missing one day of courses is like missing a week in a semester, therefore students are not able to be absent for even one day.
Important dates:
July 4, 2021 - 8:00 - 9:30 am: Core course starter session and textbook pick up. Attend onsite at SACHS for this session
July 5 - July 27, 8:00 - 1:30 pm: Attend online daily.  (No school on July 1)
> > > Learn more