Core Courses - Blended Programming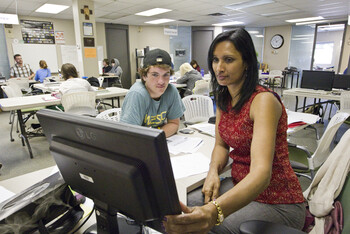 LOCATION: Ecole Secondaire Sainte Marguarite d'Youville (ESSMY)
DATES:
July 2 - 8:00-9:30 am - Core Course Starter Session.
July 3-24.  You can finish your course early with dedication and hard work.
TIMES: 8:00 am -1:30 pm
Available Core Courses:
Biology 20, 30 (5 credit)
Chemistry 20, 30 (5 credit)
English 10-1, 10-2, 20-1, 20-2, 30-1, 30-2 (5 credit)
Math 20-1, 20-2, 30-1, 30-2, 31 (5 credit)
Social 10-1, 10-2, 20-1, 20-2, 30-1, 30-2 (5 credit)
Physics 20, 30 (5 credit)
Science 10, 14, 20, 24, 30 (5 credit)
Only 1 Core Course can be taken during Summer School. If registered for a Core Course, no additional courses can be taken.   
How these courses work:    
You are able to finish your core course early, with dedication and hard work.
Students taking core courses must attend daily.
Math and Science students stay at school each day, until their course work for the day is done.  Generally this means they are there from 8-1:30 pm.
English and Social students are able to leave after about an hour a day, but are welcome to stay for the whole day (from 8-1:30 pm). English and Social can be successfully completed primarily from home, with a daily check in.
Students receive their instruction through online lessons and videos viewed while sitting in class with their teacher.
Students work in the classroom with their teacher.
Teachers give continual mini-lessons to each student as required. 
Regular one-on-one support and instruction.
All exams (Diploma and Non-Diploma) will be written at ESSMY in August. See Diploma Exam Schedule below.
Diploma Exam Schedule - August 2019
This is the official Alberta Education Diploma Exam schedule for August 2019.  Students writing the course they are registered in for GSACRD Summer School will write at ESSMY on the following dates.  Notice that we do not offer some of the listed courses, such as Francais 30, French Language Arts 30, etc.   Click on schedule for larger image.