Core courses - Blended Program
Core courses - Blended Program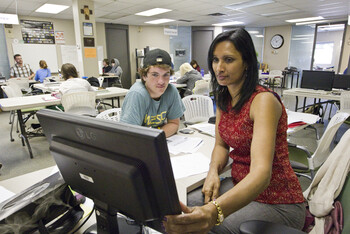 We are accepting students from all districts in the Edmonton Area.
Location: St. Albert Catholic High School (SACHS)
Attendance requirements - June 30 + July 2-23
June 30 - Core Course Starter Session: Students will be scheduled in a 1.5-hour orientation course - they will meet their teacher and go over how to do an online course and receive 1 credit towards their high school diploma.  
Exams are written onsite (this is under review this year due to Covid-19)

July 2-23 - Math and Science: All courses will be delivered online this year.

The teachers will be on hand to support students as they work through their courses. Students can finish their courses early with dedication and hard work.
Times: 8 a.m. - 2 p.m.


Available core courses:

Note: Due to the Pandemic, we will not be offering Diploma Exam courses this year.

Math 10 Prep
Math 20-1
Math 20-2
Math 30-1
Math 30-2
Math 31
Biology 20
Biology 30
Chemistry 20
Chemistry 30
Physics 20
Physics 30
Science 10
Science 20
Science 30
Science 14
Science 24
Social 10-1
Social 10-2
Social 20-1.
Social 20-2
English 10-1
English 10-2
English 20-1
English 20-2
Only 1 core course may be taken during Summer School. If a student is registered for a core course, he or she can not take any additional courses.   

We will not be offering English or Social at the 30 level this summer.

How these courses work:    
Students are able to finish their core courses early with dedication and hard work.
Students receive instruction through online lessons and videos, while sitting in class with the teacher (generally students are in class with their teacher, however this is under review this year due to Covid-19).
Teachers give continual mini-lessons to each student as required. 
Regular one-on-one support and instruction.
All exams are written onsite at SACHS.